Some Bishops have announced that it is OK to eat corned beef since St. Patrick's Day falls on a Friday during Lent. I guess you will have to check with your particular parish for the rules that apply to your area. Or just plan a trip to the confessional…
Yes, really.
Anyway – I'm not much for corned beef and cabbage myself. I would rather have stuffed cabbage, or a corned beef sandwich.
I have made it a few times. Here is my recipe that dates back before slow cookers and processed foods, so no seasoning packet. I guess you could call it natural. There are no artificial ingredients other than what they use to cure the corned beef. I think the next time I make it I might add the brown sugar and mustard from MamaGourmand's recipe below.
Traditional Corned Beef and Cabbage Dinner
4-5 lb. corned beef brisket
1 clove garlic, crushed
1 teaspoon whole black peppercorns
4 medium onions
4 medium potatoes
6 carrots
1 head cabbage
Place corned beef in large dutch oven. Cover with water.
Bring to a boil. Skim off the scum that rises to the surface during the first 10 minutes. Add garlic and peppercorns. Cover and simmer for 2 hours. Do not boil. Keep temperature just under boiling.
Meanwhile, peel potatoes and onions and cut into 1 inch wedges. Clean carrots and cut into 1 inch slices.
Add to pot with beef. Simmer another 30 – 40 minutes, or until potatoes and carrots are tender – not mushy.
While that is cooking, wash, core and quarter cabbage.
Remove vegetables to serving bowl and keep warm.
Place beef on platter to slice.
Put cabbage into the water. Bring to boil. Boil 3 minutes.
Drain cabbage and place in another serving bowl.
Serve Dinner.
Makes 6 – 8 servings.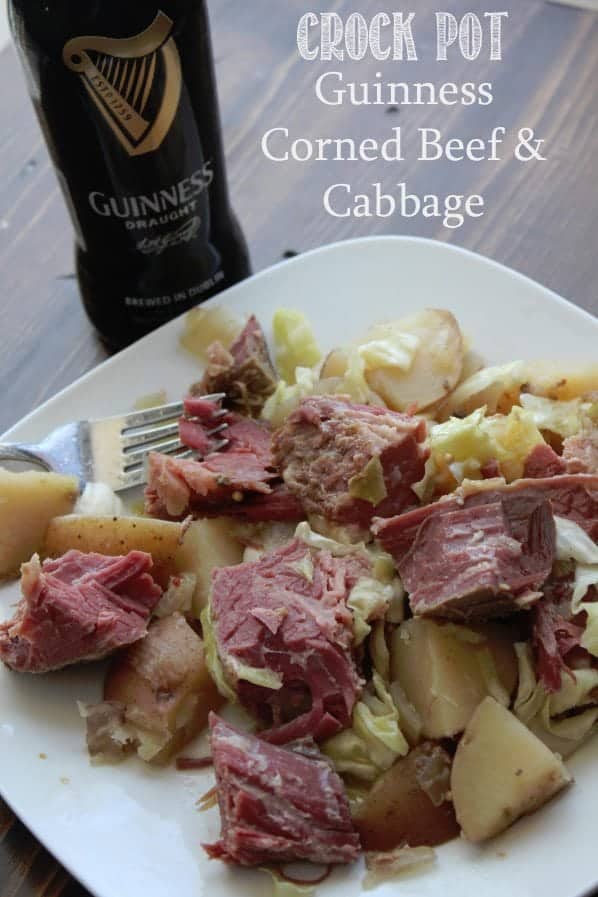 Well – how much more Irish can you get than this recipe from TammiLeeTips.com?
Crock Pot Guinness Corned Beef and Cabbage
Ingredients
10 Baby red potatoes, quartered
1 onion, peeled cut into pieces
4 cups of water
4 pounds corned beef brisket with spice packet
6 ounces of Guinness
1/2 head of cabbage, coarsely chopped
Directions
1. Place onions and potatoes in the bottom of the Crock-Pot

2. Pour in water and place brisket on top
3. Pour beer over brisket, It is about a half a can so enjoy the 2nd half as you cook
4. Sprinkle brisket with spices set Crock Pot on high
5. Cook 8 hours on high, 1 hour before serving stir in cabbage pieces and recover crock pot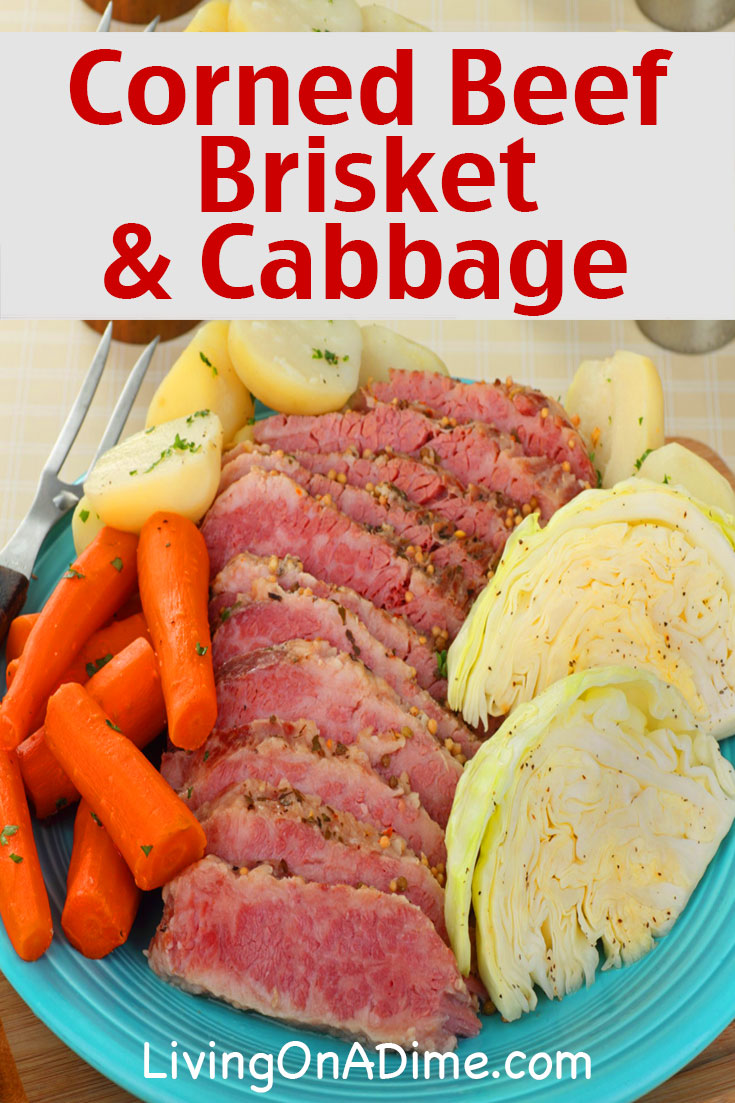 Living on a Dime's recipe is about what most people do-
Irish Corned Beef Brisket and Cabbage Recipe
1 (3 lb.) corned beef brisket, plus seasoning packet
1 large onion, peeled
10 small (red) potatoes
15 baby carrots
1 head of cabbage, cored and cut into wedges
Salt and pepper (to taste)
Place brisket, seasoning packet and onion in a large Dutch oven or pot. Cover with water 6 inches above meat. Bring to a boil and boil for 30 minutes. Reduce to medium low or to a gentle boil. Cover and cook for 3 1/2 hours. Remove onions, cut into wedges and put back in the pot. Add carrots, cabbage and then potatoes. Cover and cook 30 more minutes or until potatoes are tender. Remove vegetables, but keep the meat in the juices until you're ready to slice it so it won't dry out.
MamaGourmand  says this is the best recipe you will ever find. I kind of like the fact that she throws the season packet away. This just might be the best recipe…
Slow Cooker Apple and Brown Sugar Corned Beef and Cabbage
Ingredients
2-2½ lbs. small red potatoes
1 lb. baby carrots
1 small cabbage, cut in wedges
3 lb. flat cut corned beef, season packet discarded
1 quart apple juice
1 cup brown sugar
1 tbsp. stone ground mustard
Instructions
Put potatoes on bottom of large slow cooker. Layer carrots, meat, and then cabbage wedges on top (you may have to slice the cabbage wedges thinner to fit everything in slow cooker).
Mix together the apple juice, brown sugar, and mustard. Pour over everything in the slow cooker.
Cook on low for 8-10 hours or high 4-5 hours until meat is very tender. Serve with reserved juice in slow cooker.
Notes
Make sure to get a flat cut of corned beef. It is a better quality and will be a leaner cut.
If you want the more traditional oven variety – you might want to try the Campbells's Kitchen version –
Ingredients
4 cups Swanson® 50% Less Sodium Beef Broth or Swanson® Unsalted Beef Flavored Stock
1 corned beef brisket (3 to 4 pounds) (with seasoning packet)
2 tablespoons Dijon-style mustard
2 tablespoons packed brown sugar
2 large onion, peeled and cut in quarters
3 medium carrot, peeled and cut crosswise in thirds
6 small red potato, cut in quarters
1 head green cabbage, cut in wedges
Step 1
Set the oven to 350°F. Stir the broth and the contents of seasoning packet in a roasting pan.  Place the beef, fat side-up, into the pan. Spread the mustard on the beef. Sprinkle with the brown sugar. Cover the pan.
Step 2
Bake for 2 hours.  Arrange the onions, carrots, potatoes and cabbage around the beef in the pan.
Step 3
Bake, uncovered, for 1 hour or until the beef and vegetables are fork-tender.  Let stand for 10 minutes.  Place the beef and vegetables into a serving dish.  Strain the broth mixture and serve with the beef and vegetables.